The International College is proud to welcome Mrs Mary Arnal to be its new Principal from September 2013. MrsArnal is an applied linguist with a Masters degree from Edinburgh University and has a background in university lecturing (at the University of Surrey) and teaching both in the UK and overseas. She has taught both in the independent and maintained sectors and her specialist subjects are English Language, English Literature, Psychology and Philosophy, which she studied at the University of Manchester. She has experience teaching the IB in Spain,where she was Director of Studies for years 2-18 at a school in Madrid, and in Peru.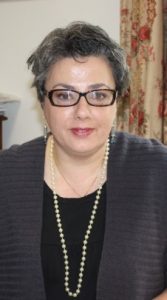 From 2004 to 2010 she was a Senior School Boarding Housemistress and University Admissions Supervisor at St. John's School, Leatherhead. Mary has been a proprietor of an International Summer School in Ireland for over ten years. She is experienced in business, finance and marketing and holds a diploma in marketing from the University of Ulster. She is a Fellow of the Royal Society of Arts and is a qualified examiner and inspector. Most recently she has been a Senior Leader and Preparatory Headmistress at St Teresa's School, Effingham and is an elected member of the Independent Association of Preparatory Schools.
Mrs Arnal says she is delighted to take up the role of Principal of the International College, Sherborne School and seeks to embrace and continue Dr Greenfield's outstanding legacy in running the original and the best International College in the UK.
Mary is married to mathematical analyst, Antonio Arnal, and her younger son attends Sherborne School whilst her eldest has completing his undergraduate degree in French at Bristol University. In her free time she likes to travel, especially to and throughout Spain. She has a professional and personal interest in counselling, family therapy, and particularly emotional welfare in children. Her hobbies also include oil painting and walking.
Mrs Arnal has also recently  been appointed a Governor at St John's School and also is Governor elect at another school in East Africa.
Picture shows  : Mrs Mary Arnal, BA (Hons), M.Sc, PGCE, FRSA. Principal  of International College, Sherborne School.